Still a thrill, piano is being given away
The baby grand was played by Fats Domino and other legends
at Austin club
By LISA FALKENBERG
Copyright 2005 Houston Chronicle Austin Bureau
AUSTIN - Ray Charles touched these keys.
Jerry Lee Lewis stood, in his sneakers, on this cherry Coke-colored wood.
And
Fats Domino
belly-bumped all 700-plus pounds of this baby grand across
the stage the night it debuted at the Armadillo World Headquarters in 1971.
Nearly 35 years later, the 1915 Mason & Hamlin, played by almost every piano
player who passed through Austin's seminal hippie nightclub during its brief
existence in the 1970s, is being given away in a charitable drive benefiting
Austin's Family Elder Care.
Synthesizer innovator Robert Moog dies
Associated Press
synthesizers turned electric currents into sound and
opened the musical wave that became
electronica, has died. He was 71.
"The arrival of the synthesizer came as just as the Beatles
and other musicians started seeking ways to fuse
psychedelic-drug experiences with their art.
The Beatles used a Moog synthesizer on their 1969 album,
"Abbey Road";
A Moog was used to create an eerie sound on the soundtrack
to the 1971 film "A Clockwork Orange".
Keyboardist Walter (later Wendy, he/she underwent a sex-change procedure in
the late 1960s and became Wendy Carlos, though her albums of that era were
released under the name of Walter Carlos.) Carlos demonstrated the range of Moog's
synthesizer by recording the hit album "Switched-On Bach" in 1968 using only
the new instrument instead of an orchestra."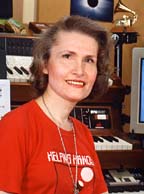 ---
'Piano Man' discharged from care
I must admit I was taken in at first by this mystery
The so-called Piano Man found wandering in April has been released
from hospital after his condition improved.
'The man was first taken to Medway Maritime Hospital where he drew a picture
of a grand piano and was then taken to the hospital chapel.
It was reported that health and social workers said they were "stunned" when he
proceeded to give them a virtuoso performance.
However, newspaper reports now suggest he was only able to play one
note continuously.
Theories put forward and later discounted included that the man was a French
street musician and a Czech concert pianist.'