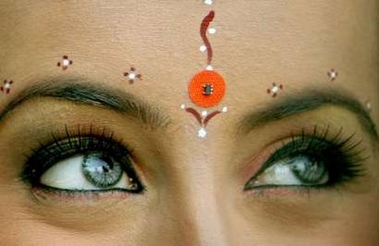 From Ask Yahoo, 1998 :
Dear Yahoo!:
What does the red dot on the forehead of Indian women represent? What is it made of and at what age do they get it?
Susan
Columbia, Missouri


The Yahoo answer
here
More recently, a Forum post at Smallprint.org :
FINALLY, SOMEONE HAS CLEARED THIS UP FOR ME....
For centuries, Hindu women have worn a dot on
their foreheads. Most of us
have naively thought this was
connected with marriage or religion...

read the rest here




Stuart