Females
footwear


fun,

fashion

and fotos

are the 'F' words of the day for the folks at

Glamour Magazine
who held their annual

Stiletto Run
in Moscow's Red Square last month.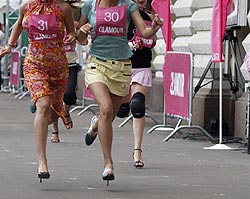 Yes:
it's old/odd news by now, but the colorful images
are worth a look, IMHO and

No:
Foot Fetish mattters here :




Or was that.... Foot Fetish matters
here?


Hmmm....this looks interesting :

Huge collection of event photos, copyright
Vasim V

on
Live Journal


A smaller handful :

Spiegel.de slideshow